MELASTA works to solve the limitations associated with conventional lithium-ion technologies, including cycle and span life, safety, recharge time, power delivery and ability to operate in extreme temperatures. The technology's performance features surpass other existing battery.
Melasta Lithium Polymer Battery Unique Features
| | |
| --- | --- |
| 1. High Discharge Current | 6. Low Self-Discharge |
| 2. High Reliability | 7. High Energy Density |
| 3. High Capacity | 8. Various Shapes |
| 4. Longer Life Cycles (LIPO cycle life) | 9. No Memory Effect |
| 5. High Safety | 10. Low Impedance And Heat Generation |
Customized LiPO Battery Features
Melasta can make all shapes of the batteries according to the application requirements. Over the years of experience Melasta has developed the technologies for LiPO battery and has served more than 1000 unique battery projects with customized batteries. Our Research and development teams are experts in understanding the customer needs and application requirements.
Unique Features of Melasta Customized LiPO Battery
1.The minimum width could be 6-50mm and thickness could be 0.4mm~8mm
2. Support fast charging and discharging rates
3. Wide Temperature ranges -50 ℃~50 ℃ or -20 ℃~80 ℃.
4.Comply with All safety standards certifications of lithium battery including IEC, UL, PSE, UN38.3 etc.
5. It can support a wide range of applications including smart wearable, deep diving equipment, medical electronics, military equipment, and public security.
6. High discharge rate up to 150C pulse
7. Our Normal delivery time for samples is 10-15 days
Customized Shape Batteries
These are few customized LiPO battery shapes, which we have already designed for our customers, Ultra-Thin, Curved, Round, Hexagon, Ultra Narrow, C Shape, Triangle, Rectangle, D shape, And polygonal shapes.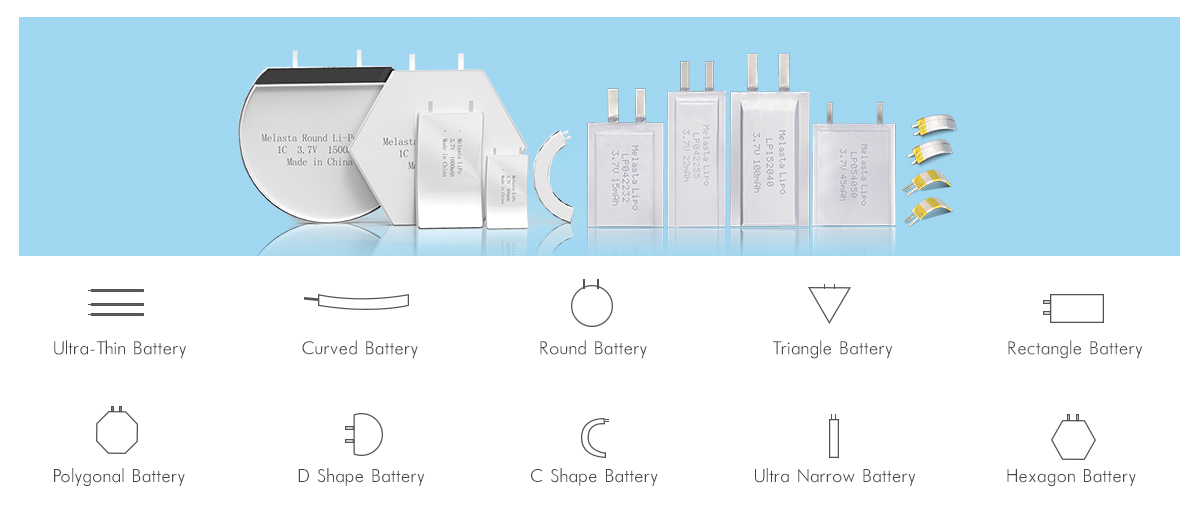 Low-Temperature and High Discharge LiPO Battery Features
Melasta batteries are design and manufacture to provide high performance in power, capacity, and discharge rate. These Low temperature cells are mostly used for special projects in frozen mountains and military grade applications.
Unique Features of Low Temperature LiPO Battery
1. Wide range of low Operating temperature from -50℃ to 50℃.
2. Customized battery shape according to special application.
3. High Discharge rate up to 90C for 2 seconds and 45C continuous discharge rate
4. Support fast charging with 5C rate
5. Stable performance in extreme temperatures, along with the higher discharge rate.
6. These batteries can be used from size applications to large industrial applications. Wearable devices, agricultural appliances, automotive applications, industrial applications are the main areas to use LiPO batteries.